Bonjour tout le monde! La Fête nationale is upon us and what better way to celebrate French independence than to express our freedom by drinking French wine? And what could possibly be more French than wine from France? And sometimes the most convoluted, expensive and confounding? Mais, oui! This is very French. And yet, we still love them and their gorgeous wines. I have once again, taken on the painstaking task of sampling some different French wines for you to consider as you celebrate Bastille Day. You are celebrating Le quatorze juillet, oui?! As a self-described Francophile, I typically do this with wine, haricot vert and beaucoup fromage. If for no other reason, it is a fun occasion to try some French wine and eat stinky cheese. For the past several days, mon amour and I have been exclusively sipping various affordable French wine in preparation for this post. Not all have been noteworthy but there are a few that I am plucking to share here, in hopes that you will consider them for Bastille Day festivities, and beyond. Vive la France!
Allons-y!
We began our Bastille Day project with a yum-tastic rosé. The 2014 Pierre et Papa Rosé from the Languedoc-Roussillon region in the south of France. Retailing at $10 per bottle, the price is right. This easy to drink rosé is 100% Cinsault and would pair nicely with fish. We had it with goat cheese and found that to be a match made in heaven. The red fruit of the Cinsault grape comes through with a pleasing acidity. If you are a sweet rosé drinker, this could be a good dry rosé starter wine. A very accessible rosé indeed!
Note: we bought it at Whole Foods Illinois but seems widely available at many retailers.
For the serious rosé drinkers...
I give you La Pepie! Or the chicken wine, as I heard it referred to (no chickens were harmed in the making of this wine). This sophisticated rosé is also French, from the Muscadet region, due north of the Languedoc, in the Western end of The Loire Valley. I had the pleasure of attending a tasting on Muscadet in May (see post), where I learned a bit about the excellent wine being produced there. However, we did not try a rosé from the region and this one is, as they say, "ooh la, la"! The wine is from noted vigneron Marc Olivier of Domaine de la Pepiere, who is committed to making organic wine. The 2014 La Pepie Rosé is a blend of 60% Cot (malbec) and 40% Cabernet Franc, retailing at $16.99. It is fairly dark in color and boasts citrus aromatics with dark berry on the palate. The finish lingers quite well. One could pair it with fish or cheese but we mixed it up and plated a cherry-basil bruschetta. Yeah, that worked out well. Check your local wine shop or order it online.
Are we still in France?
Now for some real fun! This next wine has quickly become one of my easy drinking go to's. The 2014 King Rabbit Malbec. It is French but drinks like Argentina. Malbec originally hails from France, but the Argentines have made it their own. This merry selection is dancing with rich notes of black plums and sumptuous tart berries on the palate. Highly pleasurable. It pairs nicely with the moonlight. We also snacked on a hard smoked gouda, ripe Michigan cherries and pieces of dark chocolate. I could end most days this way. This trouble-free wine retails for $10. We also found it at Whole Foods, for whom it is exclusively produced. Easy enough for most of you to get to. Do it. So fun.
Note: I could not find info on where these grapes are actually from in France, so if anyone knows, please share!
To the Rhône!
To round out a post about accessible French wine, one must have a Côtes du Rhône. This region of France is known for their easy drinking, affordable and versatile reds. We actually tried a few, but I only found one that I wanted to recommend: the 2013 Gabriel Meffre Côtes du Rhône "Saint Vincent". This beauty from the southern Rhône is an indicative blend of Grenache, Syrah and Cinsault. It retails for $16. We found it very approachable with a fruity and medium body style so reflective of the region it comes from. It has berry notes with a hint of herbs and mineral with a peppery finish. We savored skewers of grilled vegetables, marinated in EVO, balsamic, garlic and loads of fresh thyme from our herb garden. It worked. And we continued to sip it as a digestif once the nibbling halted. Happy Bastille Day!
We had so much fun sampling the wines, it would seem remiss not to share the photos.....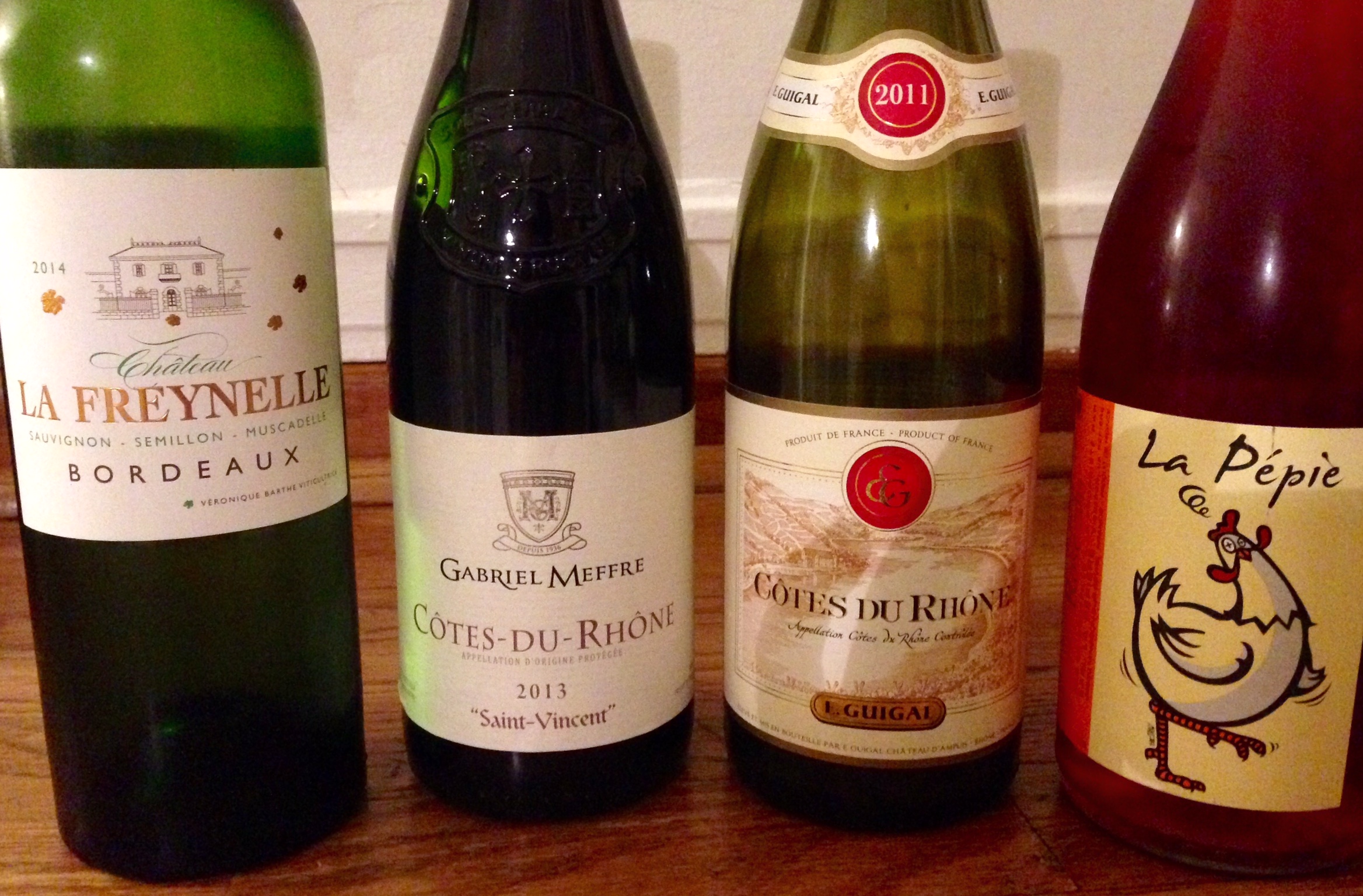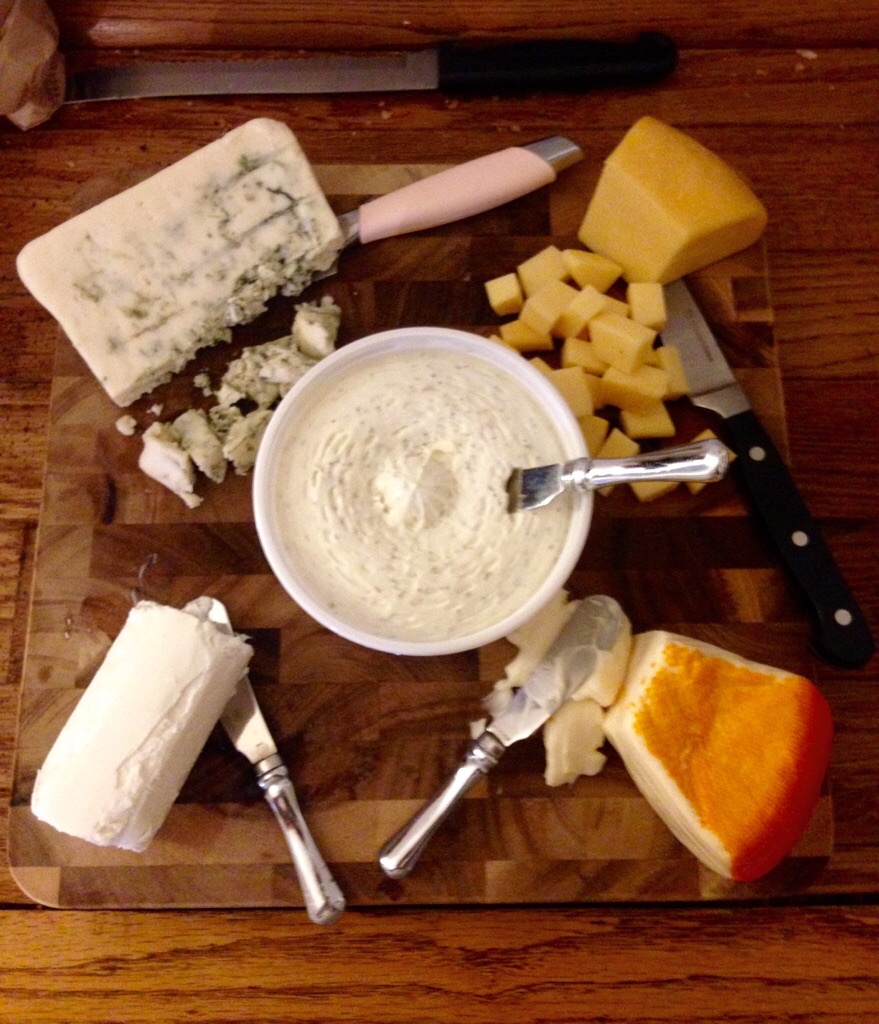 I would like to thank Katy Weseman (not pictured but she was a big help!) and Sarah Riddle (pictured) for assisting us with some of the tasting. They are always willing to pitch in on these extremely difficult tasks (gulping wine) and we so appreciate it!
So I tried my hand at actual crêpes on the evening of July 14. Just to be festive. By the last 2, I finally felt like I knew what I was doing. I suggest watching a video demo. I did. I also went to our local farmer's market last night and observed the crêpe booth for some time. The tool and the hot iron are no doubt, a huge help for creating those perfect edges!
The savory crêpe: sautéed spinach, baby bella mushrooms, garlic and onion with blue cheese and balsamic drizzle. (to the left)
The sweet crêpe: fresh cherries and strawberries with chocolate sauce from one of our favorite local companies. (below)
The wine: Brouilly 2013 Vieilles Vignes, Domaine Dubost. 100% Gamay, retails at $18. This wine is rich. It is both dry and ripe with fruit. Delighted my palate, teased it until the crêpes layered in, creating a cacophony of flavor and depth. Loved it! If you can't do this one, at least explore the offerings of Beaujolais. The gamay grape is light bodied, fruity and fun! Get cha' some!
So that my friends, is how I did Bastille Day 2015.
Once more for posterity's sake: Vive la France!