Last month, Gabe and I took a few days to head north to the Great Lakes wine region du jour: Traverse City, MI. Here in Chicago, many local wine shops, restaurants and even grocery stores feature wines from this acclaimed, and for us, a regional wine area. Some of you may already be in the know, but those not, now hear this: Traverse City is making some damn good wine. Also known as "The Cherry Capitol of The World", the terroir includes a great lake. How ya like them cherries? Speaking of sweet fruits, though the Rieslings are world-class, Traverse City produces some considerable reds, including Pinot Noir and Cabernet Franc. They have an admittedly shorter growing season, due to their northern (read frigid) location but as the winos know, some grapes do very well in such conditions. I recommend visiting in June or July, if you are cold wimp, like me. Word has it that the Fall is quite stunning there. At the very least, try the wine!
The lay of the land.
The Traverse City wine appellations are found on either side of Lake Michigan and named: The Old Mission Peninsula and The Leelanau Peninsula. We began our adventure on the Old Mission side. We lodged in Traverse City proper, at a fabulous Airbnb (not listing here because it is not available any time soon!), which was centrally located to the charming downtown TC, replete with adorable shops and restaurants. From the heart of town, it is a 20 minute drive to the wineries. The views will astound you! We lucked out and had very temperate weather. We stopped at one scenic pull-off before arriving at our first winery.
Our first stop is both a family run estate winery, as well as a scenic B & B. Chateau Chantal sits on 65 acres of some the most prized real-estate in the area. The view from their Chateau boasts a panorama of the vineyard with the lake in the background. It is breathtaking. Due to the shape of the lake in that spot, it can be seen from almost every vantage point. There is something so energizing about the presence of water near a vineyard. A reminder of the movement, the incessant cycles of growth happening all around. And, it is beautiful. All of this will make you want to drink wine. Chateau Chantal has a lot of options, including Sparkling Cherry Wine, Late Harvest Riesling and Ice Wine. Way to maximize the location!
After some communing with the scenery, we eagerly headed indoors for the tasting.
Onward: to the tasting room!
Be aware: all the 13 wineries that we tasted at in Traverse City had a tasting fee. It is nominal, but adds up (especially if you go to 13!). Gabe and I would often strategize our selections together so we could taste more of the offerings. Chateau Chantal is one of the few who waive the fee if you purchase a bottle. I am a sucker for that! We elected to do the standard 6 pours for $3. I stayed primarily in the "red-zone" but sampled a few of the dry whites. My picks from Chateau Chantal: The 2011 Proprietor's Reserve Pinot Noir. Super delicate and toasty with hints of dried cranberry. The 2011 Proprietor's Reserve Trio. A blend of Merlot, Cabernet Franc and Pinot Noir, this is a full-bodied red with mocha on the bouquet and plum on the palate.
Argentina keeps showing up in the darnedest of places!
Seriously though. This wine, aged in Michigan, is grown and vented by a winemaker in Mendoza, Argentina! The 2013 Reserve Malbec is full-bodied and full of dried fruit. It would pair excellently with smoky BBQ. It was exciting to have something so unexpected on our first stop.
Chateau Chantal is a busy place. Think tour busses and Bachelorette parties. They have a nice outdoor space, tasting room adjacent, in which you can purchase a full glass and soak up more of the view. We enjoyed it, but did not linger, as this was only our first stop and we had an ambitious agenda ahead.
Chateau Chantal slide-show.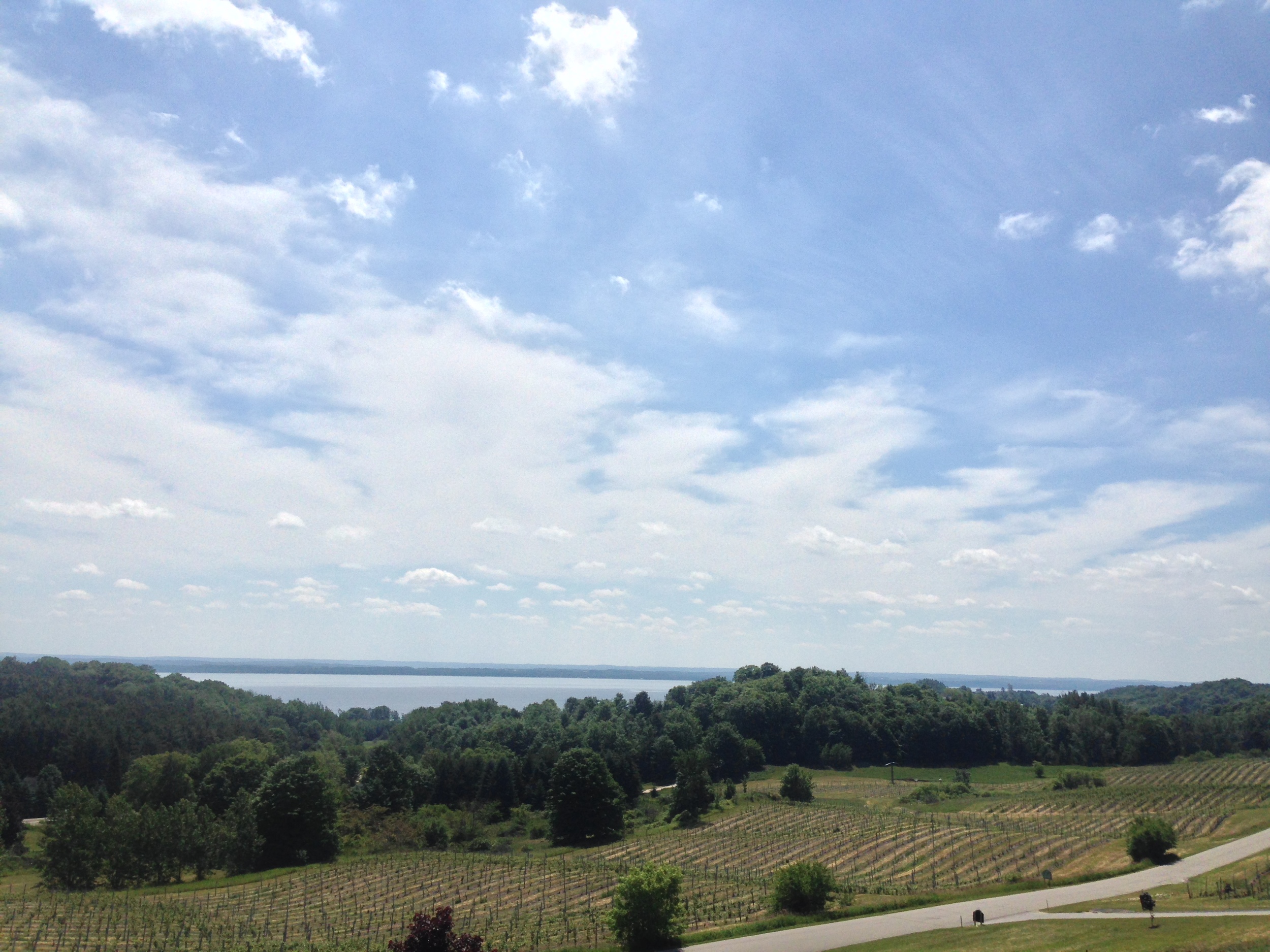 Next stop: Bowers Harbor Vineyards.
Leaving Chateau Chantal we headed back down the peninsula and got a little turned around. We lost GPS signal and had to rely on a paper map. Get one! Super helpful. You do not want to expend valuable wine tasting time driving in circles.
Bowers Harbor Vineyards is a charming boutique winery on picturesque grounds. The tasting room is pretty tiny and was filled up with happy people when we arrived. They also have some patio seating which was occupied by content wine and hard cider drinkers, taking in the view.
Their tasting fee is very reasonable at $2. They have an assortment of sparkling and dry whites, as well as a few rosé's. I enjoyed the 2014 Rosé 2896, Langley. It is 67% Cabernet Franc and 33% Merlot. Dry, tart and crisp, just the way I like it.
My other faves: The 2013 Wind Whistle Pinot Noir. This wine is as light as cotton with subtle notes of cherry and black pepper. The 2013 Nicholas Pinot Noir. A scosh fuller than the Wind Whistle, this dainty Pinot boasts notes of raspberry and smoke. The 2013 Wind Whistle Claret (the "T" is pronounced, as in "carrot"). This Bordeaux style is half Merlot and half Cabernet Franc. Black cherry on the nose and palate, with the smokiness of the French oak it is aged in, coming through. A fine wine indeed!
In addition to the aforementioned reds and rosé, Bowers has some lovely Rieslings, which is a wine found at most wineries in the region. The grapes really take to the climate. Bowers also has some "Spirit Cider", as well as Apple and Cherry wines. Something for everyone!
Bowers Harbor Vineyards slide-show.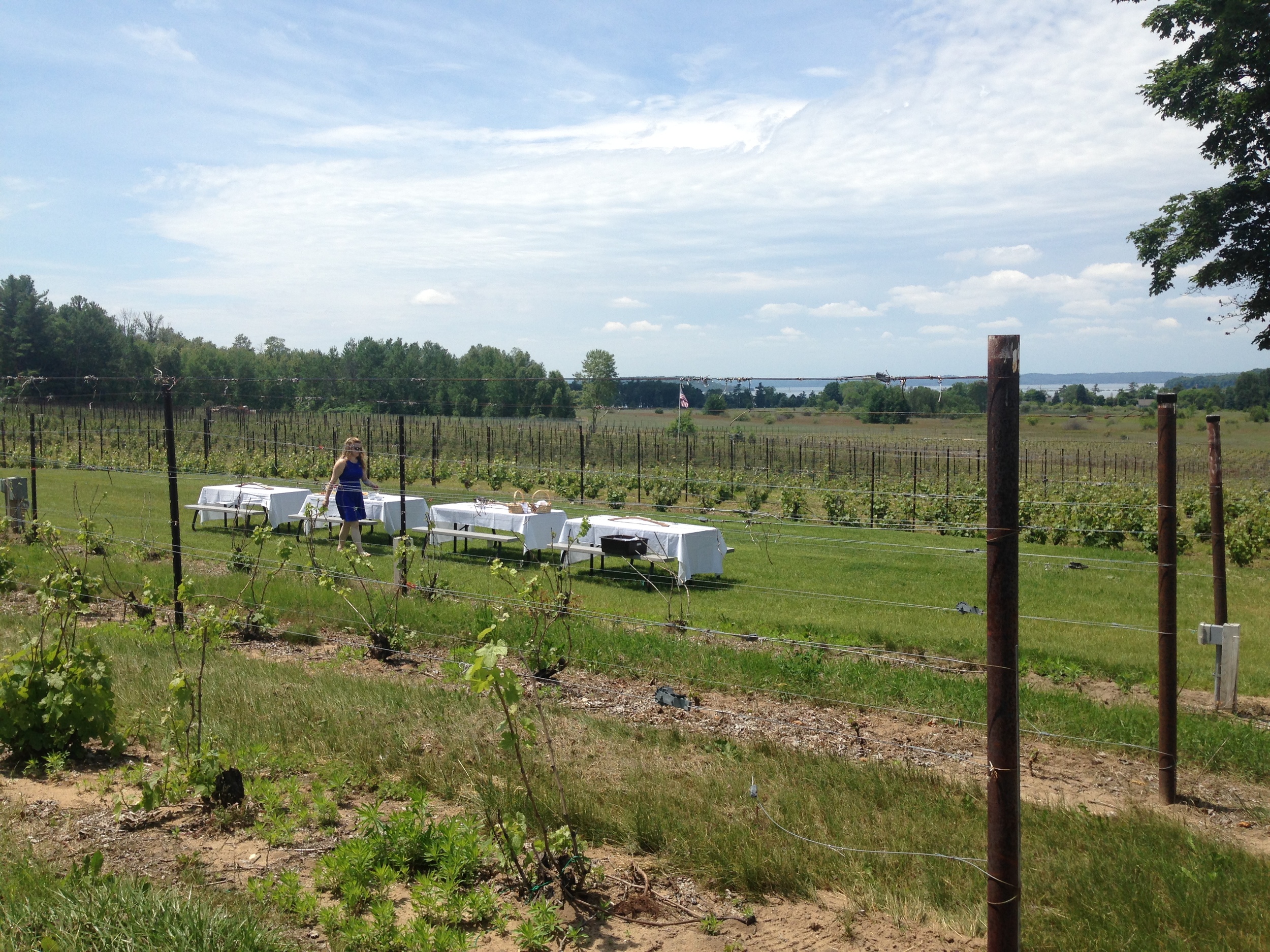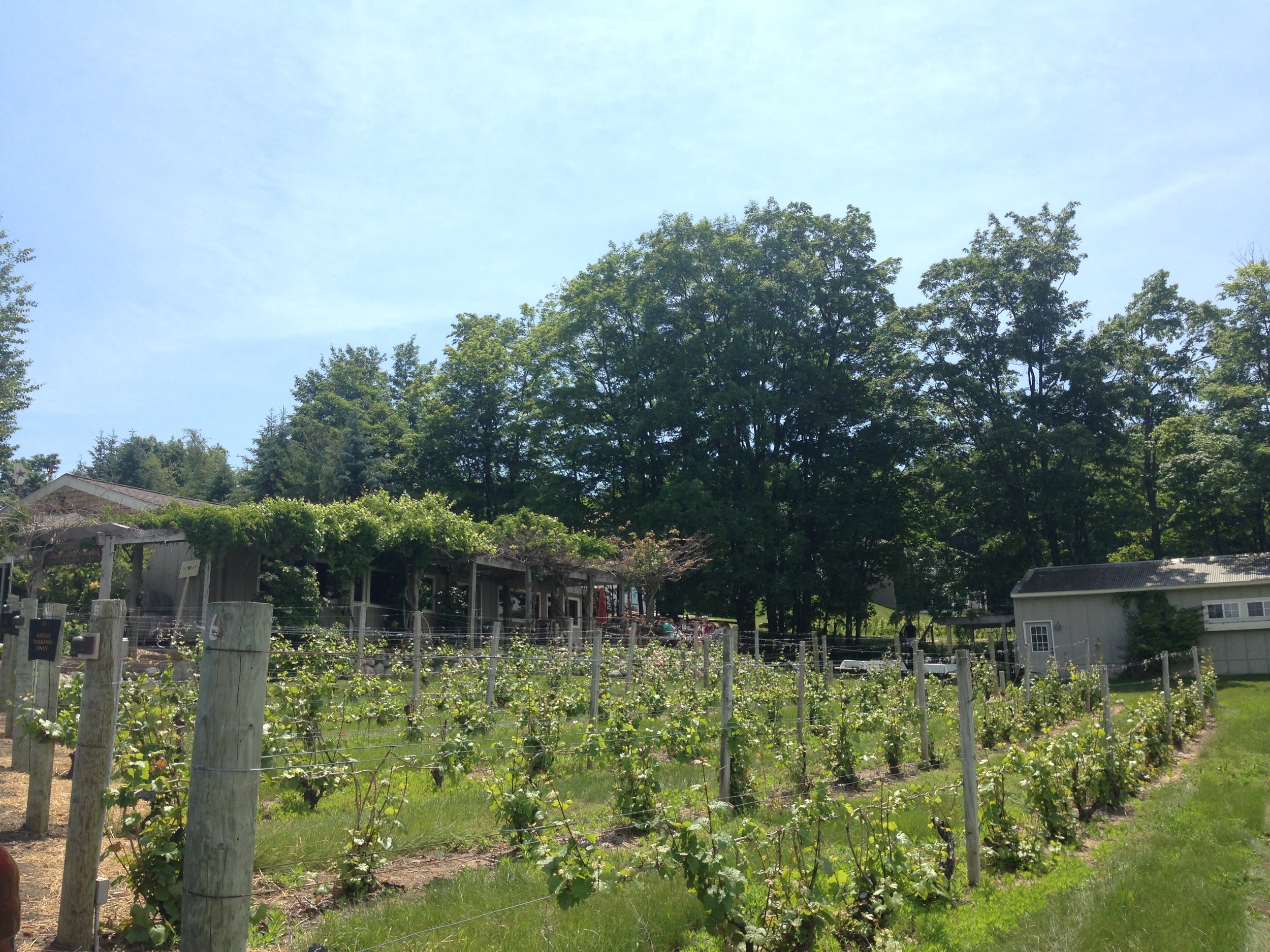 I recently came across this neat article about a new series at Bowers Harbor, incorporating 2 of my faves: Yoga and Wine! Om.............