A few weeks ago Gabe and I at last made pilgrimage to the mecca of the U.S. wine world: The Napa Valley. It was time. We have been living back in California now for a few months and we were ready. We headed up on a Thursday, which afforded us some of the weekday elbow room. We had a ball! We moseyed up and down Highway 29 the first day and The Silverado Trail the next, with a loose outline of each day. We seized the moment, and the wine.
How many wineries are in the Napa Valley?
People, there are reportedly over 500 wineries in Napa. How are you to know which ones will suit your fancy? Recommendations are generally helpful, but wine tasting in a land of 500 options can become subjective very quickly. What style of wine do you like? What is your budget? What experience do you want? A tour? Art? Food pairing? Kid friendly? A view? Napa can deliver for most specifications, and then some. I invite you to think about it, and look into it before setting out.
Where to start?
The lay-out of the Napa Valley is very easy to navigate as a driver. About that. We did drive. We visited about 4 wineries per day with meals in between, lots of hydration and taking our time. We usually share a taste, rather than us each having one, which is another strategy to limit alcohol consumption and to curb the spending. If you would prefer to be driven, there are several companies that provide a car service, as well as the new Uber WINE option. Napa though, save the tasting rooms in the downtown area, is not exactly walkable. There is the bicycle option, which is preferred for some, but I typically cannot mix the two activities. You can see from the map to the right that there are two main roads: Highway 29 and The Silverado Trail. I shall share our Napa adventure, in the hopes that it will be informative for your next Napa excursion.
Some Points of Interest:
Oakville Grocery. We arrived in the area around lunch time so our plan was to start here, the oldest continually operating grocery in California. That is some history! Think less "grocery" and more "artisan regional products with a deli". This is a great spot to grab a sandwich and eat al fresco in their patio area before heading to the tasting rooms. It is pricey but very good quality and still more affordable than most in the area. It is located right at the intersection of Highway 29 and Oakville Cross, the latter of which you can take to connect to The Silverado Trail or just to detour for tasting at Silver Oak or Plump Jack Winery. Both amazing!
Leaving Oakville Grocery to head north on Highway 29 is really where the one right after another situation ensues. There is a winery for everyone!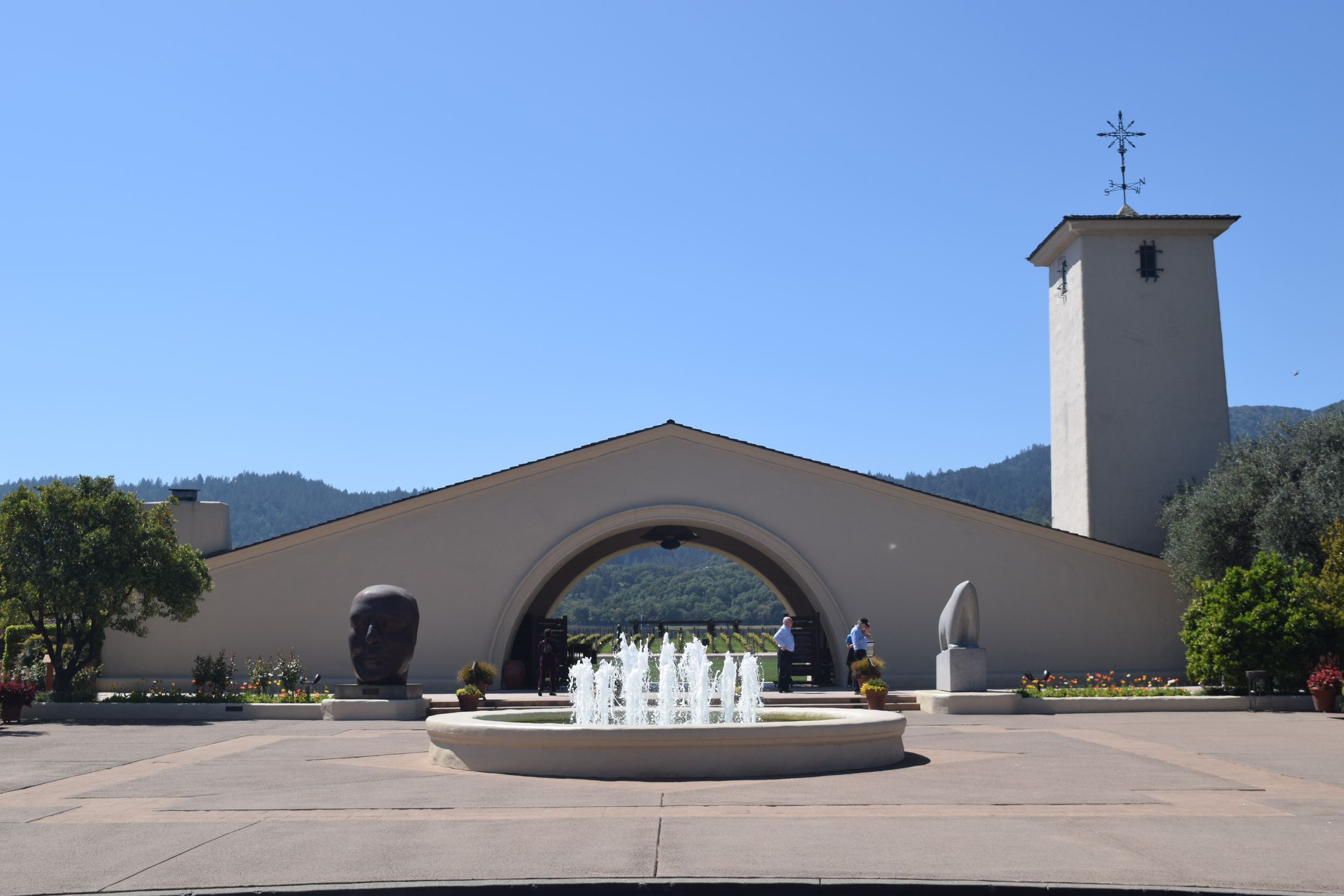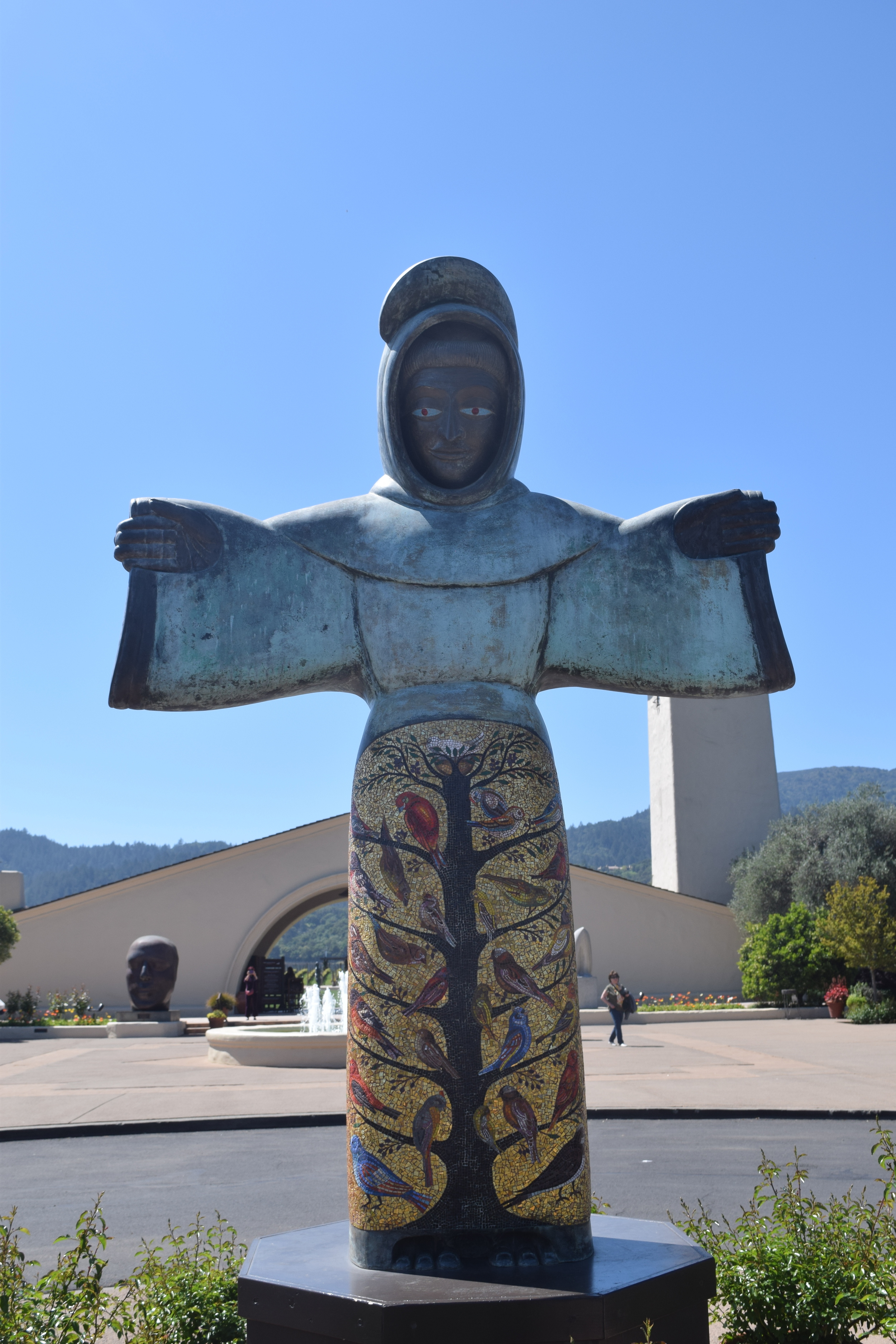 Mondavi. Yeah, we had to. Gabe had never been and I had not visited in years. Robert Mondavi was certainly a visionary force in the development of the Napa Valley to be what it is today. The winery is very beautiful with mission style architecture and superbly maintained grounds. They have the whole tourist thing down to a science, with a concierge welcome desk to provide you with options: tours, tastings and shopping. We went ahead with the reserve tasting, which we shared, and were impressed with the generous pours, relaxing patio seating and really good wine. They were hands-off as far as engagement, but I believe we could have changed that dynamic if we sought to. All in all, I loved the wine. We had mostly Cabs. They are big and bold and just really structured and highly pleasurable. My vote is to go with the Reserve tasting!
HALL. Did someone say they saw a giant flying bunny? Yes. That is totally a thing. Gabe said to me at one point, "It is almost like Vegas here, like they are all trying to out-do each other". Touché. It can feel that way. Like an adult Disneyland. The little wineries are in there too. But if you want to explore the spectacle, it is intriguing. I especially liked Hall for their merging of modernity with vintage. They have incredible art and coiffed grounds with more outdoor art pieces, reminiscent of European stye public spaces. However, I think you are pretty much expected to indulge in their offerings while visiting. Luckily they have excellent wine. They are "big on big cabs" here. Appropriate. We tasted inside but there are options for getting a glass and a nosh and just luxuriating in la dolce vita.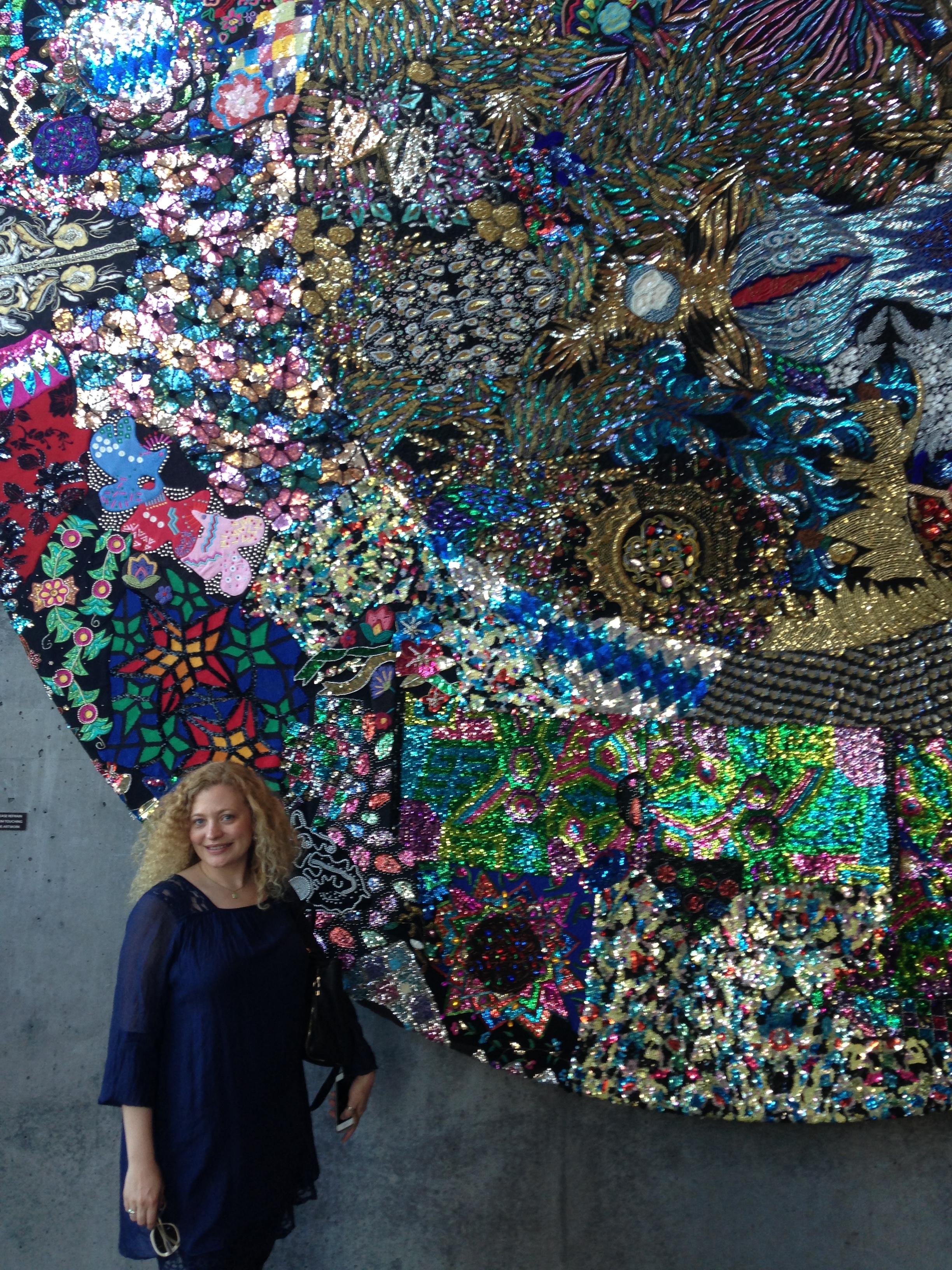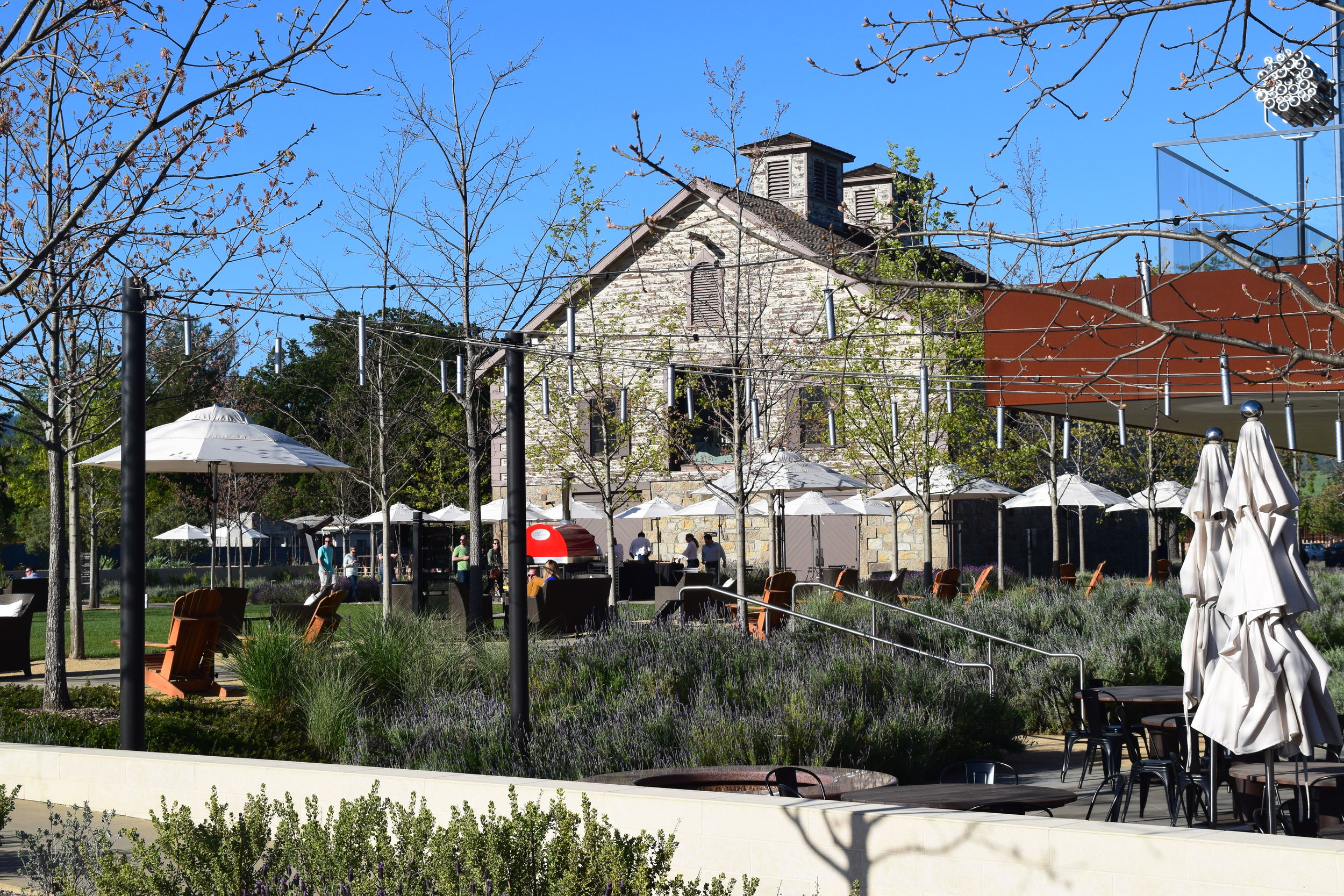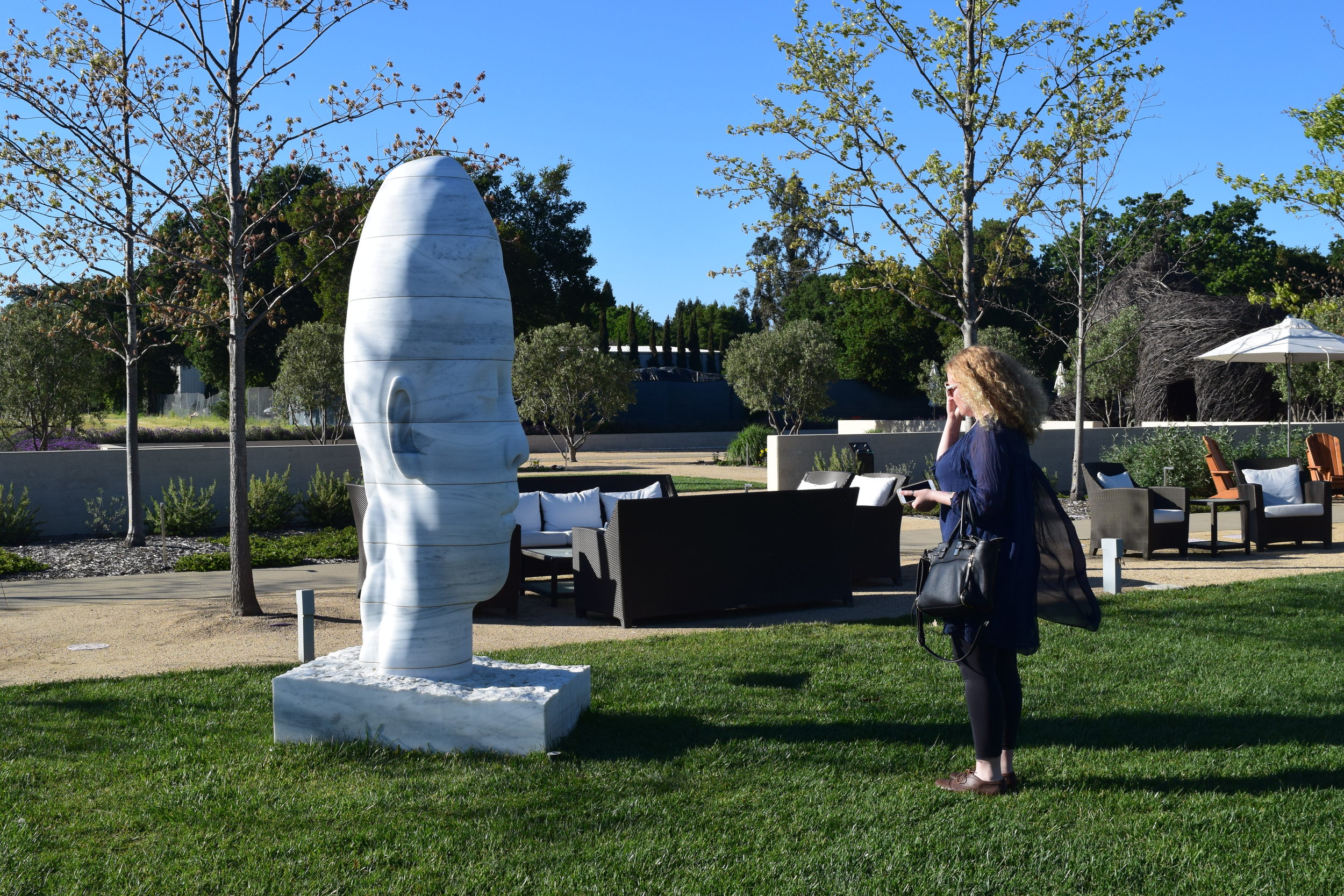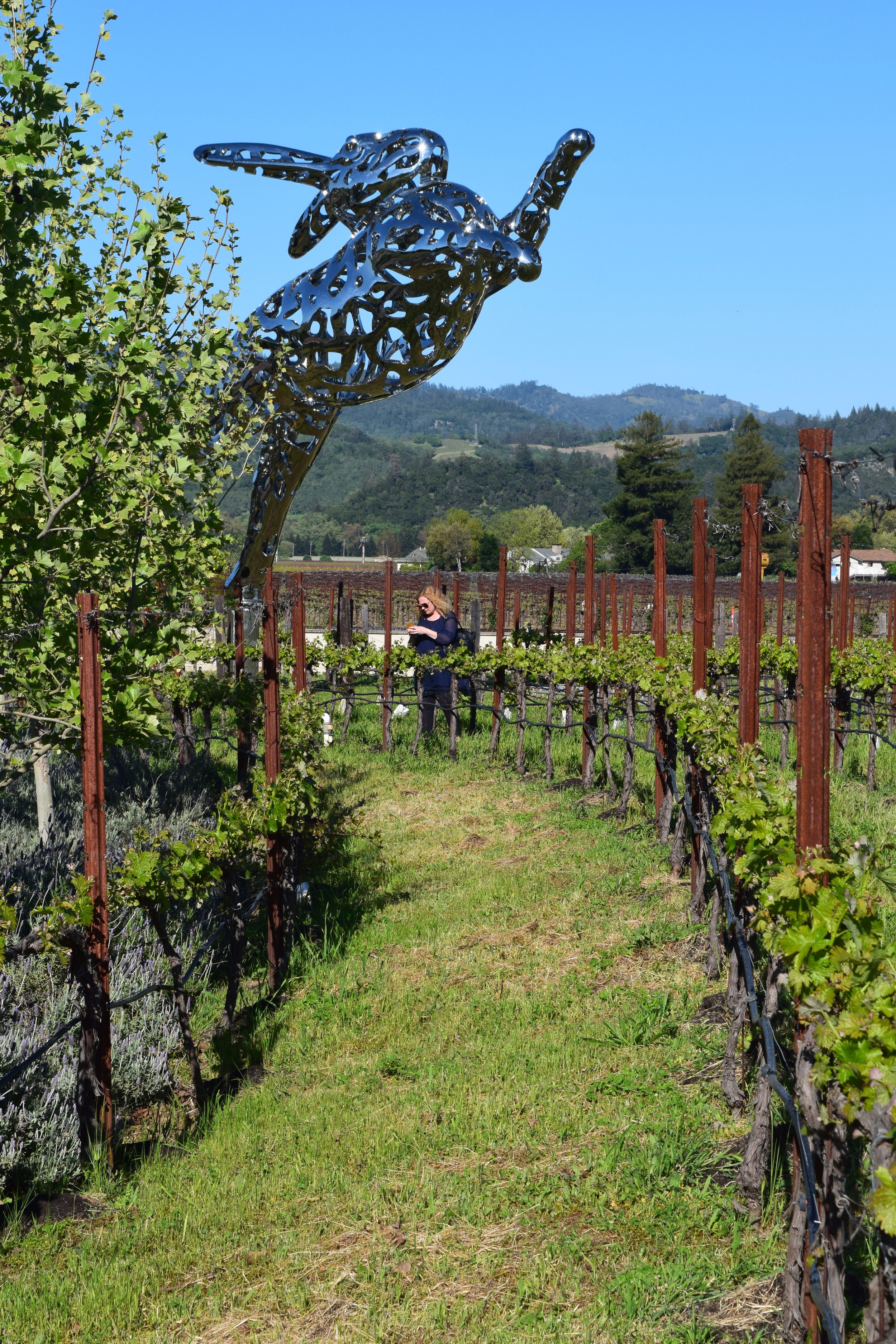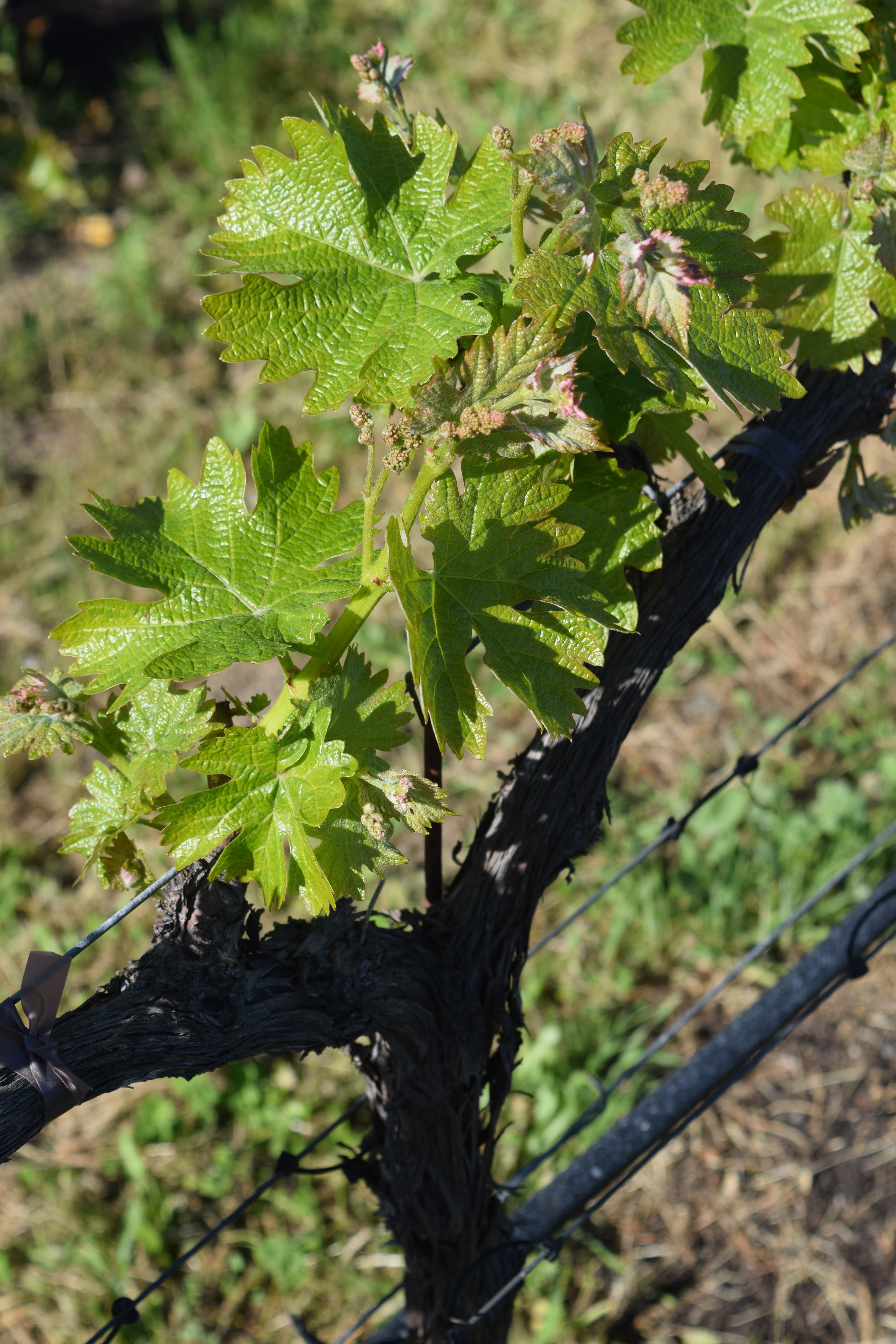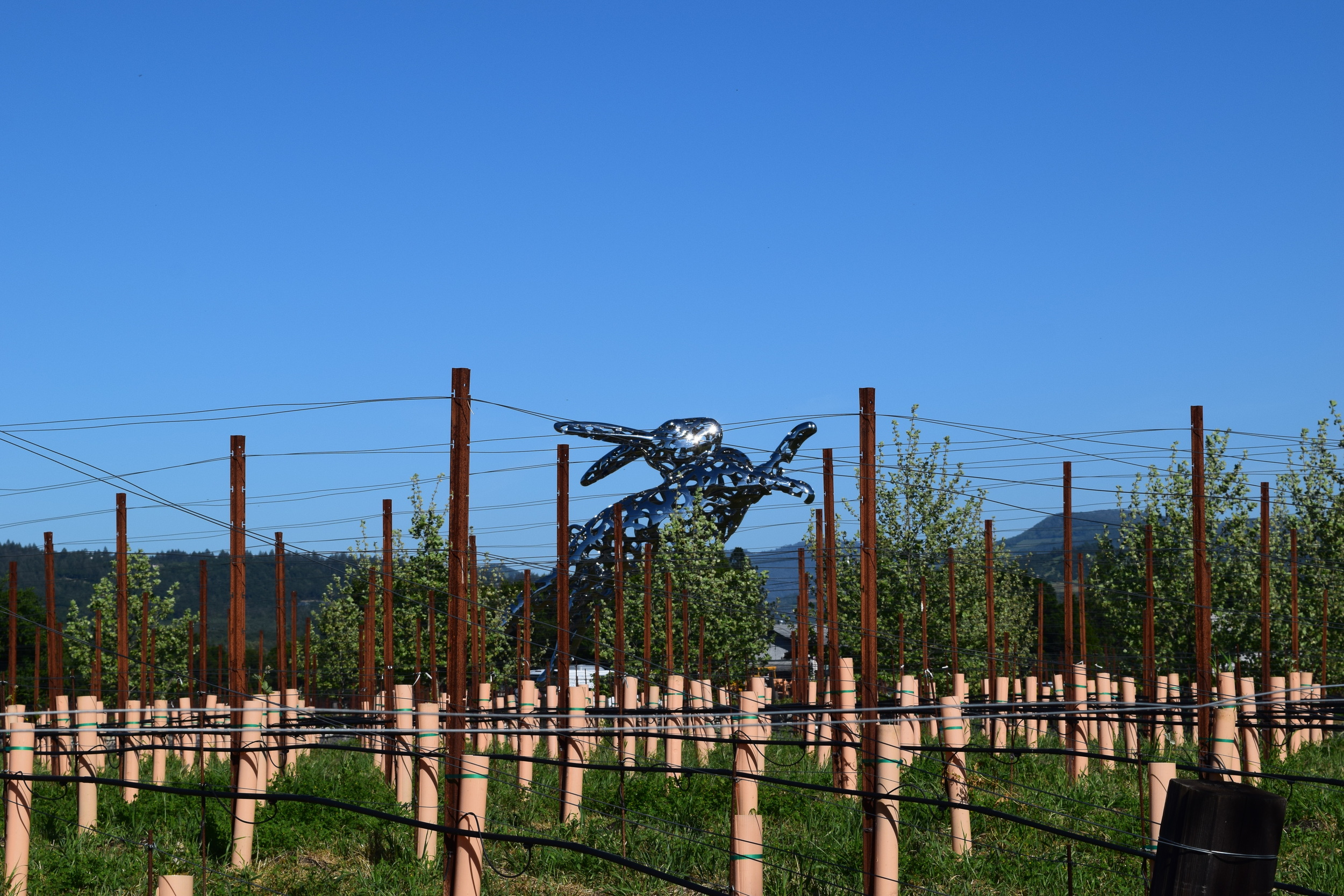 Belle Epoque, Breakfast
Mumm Napa, seated tasting and art gallery walk
Chateau Montelena*, exploring the grounds and tasting
Vincent Arroyo*, tasting and a few photos outside
Palisades Deli Cafe*, lunch
Lava Vine, tasting
Flora Springs tasting @Belle Epoque
For day two, I was determined to make it to Chateau Montelena, made famous for the Judgment of Paris in 1976. I had never been and noted that it was in proximity to a small boutique winery that we planned to visit, so we drove way north to Calistoga to get started.
First off the grounds at Chateau Montelena are unbelievable! I had no idea that the winery had at one point been under the ownership of the Frank's who had immigrated from Hong Kong and dreamed of recreating the tranquil gardens of their Chinese homeland, and that they did. Jade Lake sits on the property and is an oasis with walking bridges that connect to pagodas, ideal for an afternoon lunch and lounging near the swans and koi fish. It is a sanctuary. Then you will ascend to the front of the original and iconic building on all of their wine labels, built in 1888. It is a treat to be able to wine taste in such a historic building in the U.S., given how young our viticulture is, comparatively. This winery is a cornerstone of U.S. wine history. And they have some very elegant wines to share with you, including the Chardonnay, which put them and California on the global wine map. They still make it in the same style as the 1973 vintage: hands off and let the fruit do its thing. They also have a Riesling and a Zinfandel, which are surprising from this establishment, and very, very good. If you make it to Napa, for the history alone, Chateau Montelena is worth a visit.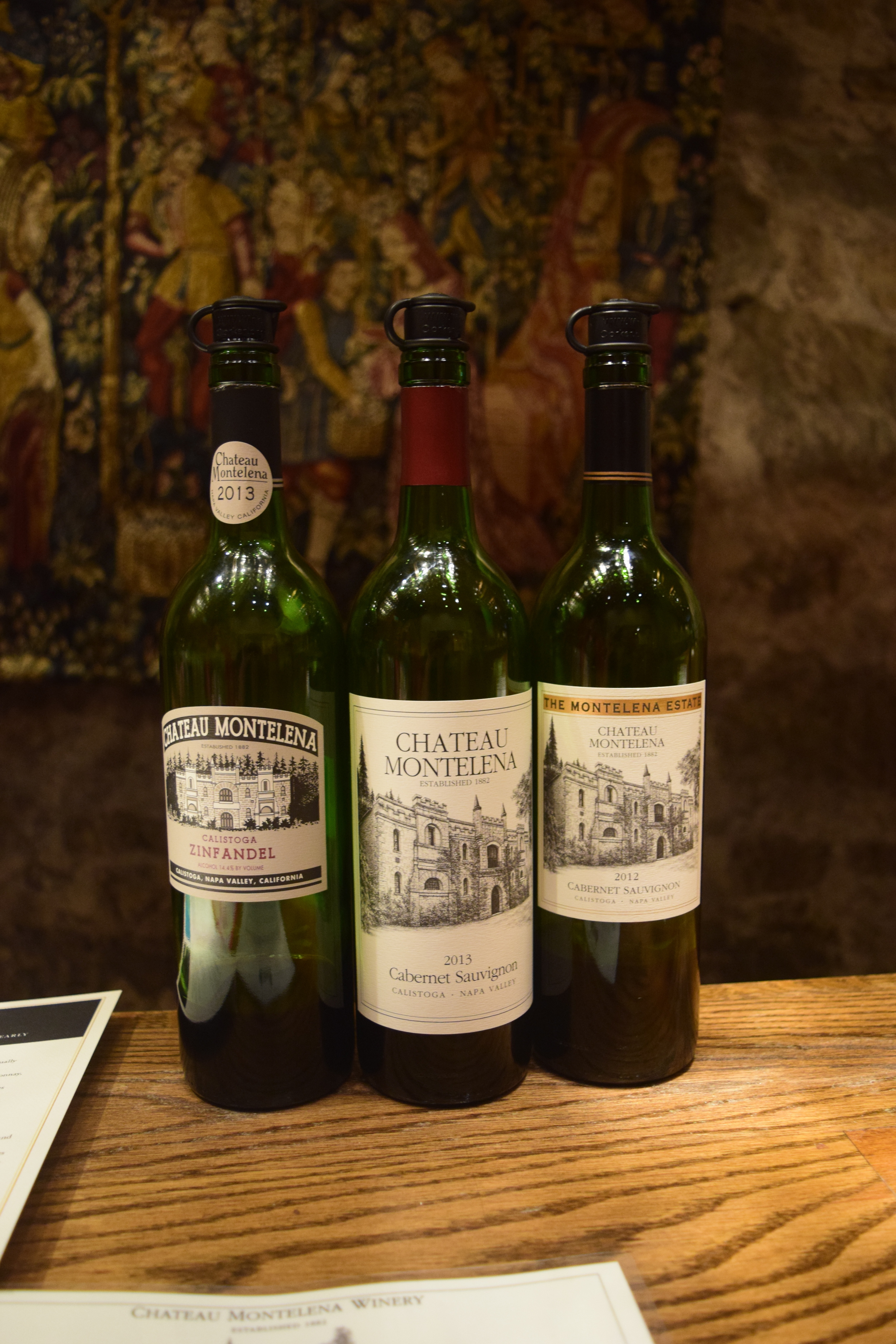 Leaving Chateau Montelena, we drove just a few minutes to Vincent Arroyo, which had been recommended to us. This small production winery is appointment only, but you can likely call from the driveway and get in. They keep it moving with very personalized service, no tasting fee, no wine club and superb wine. We absolutely lost ourselves here. The wine is crafted with care, with Petite Sirah being their dominant varietal and what they are known for. But they have many other offerings, including some red blends, whites and unexpected reds like Sangiovese. They keep it real. This is not a fancy place so all of the energy is really in the wine, and it shows. Also their price-point is just ever so much more affordable than others in the valley. We stocked up.
Taking a recommendation from our pourer at Vincent Arroyo, we headed to Palisades Deli Cafe at the Calistoga Depot for lunch. What a great find! Very affordable, extensive menu, plenty of seating inside and out, expeditious and delicious. If in the area, I would highly encourage a meal here. No frills, just good and affordable food.
Day Three Itinerary:
Belle Epoque, Breakfast and check out
Domaine Chandon, tasting and some wandering
Chateau Potelle*, tasting
Mustards's Grill, lunch, meandering through the garden and wine by Hendry and Kale
Drove home.....so sad to leave!
Chateau Potelle. This divine little tasting room was also recommended to us. We were eager to check it out based on a glowing endorsement of the wine. Wow. This dreamy little tasting room and adjacent garden is a refuge on the bustling St. Helena Highway (29). It is small, mostly appointment and a very personalized experience. We loved Shelby! And then there is the wine. Wine, beautiful wine. All I can say is go there and ask what the "VGS" stands for. That will give you a clue. Their wine is refined but also interesting, like a Chardonnay, Gewurtraminer and Viognier blend. Say, what? Exquisite. We liked it so much, we joined the wine club ;)
Tips for Tasting in Napa:
Be prepared for the spending of money. This is just the deal. Most tasting rooms have some sort fee-waiving option for a minimum purchase. This math will never work out in your favor, so accept that fact and think about what kind of wine you want to bring home.
Share tastes. We are big fans of this. This way we limit what we are drinking and spending and still get a sense of which wines we like.
Bring cash to tip your pourers. You can always pay with a credit/debit card, but do not always have the option to tip that way, as we do in bars/restaurants. Though it is not required, this is a service industry. If you like to recognize good service, do so.
Have a general plan. We discovered that traffic has gotten quite congested in Napa. It helps to have a general outline of your plan, especially if you do book appointments at specific wineries or have reservations at a restaurant, so that you can be sure to be on time.
Make appointments. I have to say that this intimidated me so much. I imagined Gabe and myself sitting there awkwardly with an impassioned winemaker, drinking wine we may have liked but weren't ready to pony up hundreds of dollars for. That scenario could play out still but it thankfully did not on this trip. Appointment only generally means that the tasting room has decided to take a crowd control approach to sharing their wine. Research what works for you and know that it is kind of nice to be "expected". Other perks usually come with it.
Eat. And eat again. Stock the car with crunchy carb snacks and bottled water. You are drinking after all. Fuel thyself. Also, this is Napa. It is a premier dining destination. The food is not to be missed and they have a bit of everything. Just build this aspect into your experience.
Start with bubbles! If you are staying at a Bed and Breakfast, as we did, or you just like to get going early, it can be repellant to think about drinking red wine at 10:00 a.m. Yes, even I, a self-described wino, have trouble with this. So we began our days at the wineries known for sparkling wine in the Valley. Day one we did Mumm Napa and day two we did Domaine Chandon. We both preferred the ambiance and wine at Mumm but both are great way to break into your day.
Look for special offers. We were so fortunate to find a deal on our Bed and Breakfast. We had a delightful stay there and there were many perks including champagne and cookies upon arrival and a private tasting with Flora Springs Winery for guests only. You may be able to find coupons for tastings, dinner specials etc. Every little bit helps in Napa!
Ask for recommendations. When you are tasting at a winery that you really like or at your hotel, ask the staff which wineries they enjoy. This is how we found several of the smaller boutique wineries that were actually our favorite wines and experiences. The locals are generally in the know so ask them.
Obviously I did not write about every single establishment that we encountered, but I am very open to being contacted about any and all of it. Ask away! In summary, go to Napa. Eat the food, drink the wine and enjoy the life!
peace, love and vino!