Caroline Hoel at Brumaire in Oakland, CA March 2018, sharing the biodynamic wines of La Clarine Farm in Somerset, CA. They make a direct press rosé from Syrah, Mourvèdre and Counoise, and several other wines including Petit Manseng, Syrah and Tempranillo.
It was midday on a pleasant Saturday in March that we booked it up to Oakland, CA. The line to get in traced the length of the building, composed of fragrant hipsters, youngish to middle aged, iPhones on the ready to don their tickets. Anticipation of the day's offerings loomed, like kids waiting in line for the biggest roller coaster. All the man buns and flannels seemed somewhat familiar, like that one acquaintance you hadn't seen in ages, on the verge of a boisterous reunion, held back by social graces. This was a wine event after all. A Natural Wine event to boot. A convergence of ethics and values with wine as the great unifier. We were at Brumaire to see, sip and share.
Natural wine. Is that an oxymoron? Maybe. It would depend on your definition. The Natural Wine devotees have no designated entity to certify wine as natural or otherwise. Some winemakers shy away from the categorization of Natural Wine precisely because of that, even though their practices may match the standards. To be clear, there ARE understood guidelines to be able to make the claim. Natural Wine is an approach to winemaking that harkens back to ancient times when humans most likely accidentally made wine, with one simple ingredient: GRAPES. The Natural Wines of today embrace the "nothing added, nothing taken away" or minimal intervention philosophy. Sounds simple, right? In theory yes, but we humans just complicate the hell out of everything, even fermentation, a gut healthy gift.
Third Coast Soif, Chicago, March 2018. Cameron and Marlen Porter, a husband and wife team born and raised in Santa Barbara County, their motto is, "WINES OF PLACE, AMPLIFYING THE VOICE OF SITE". They make rosé, Carignan and a solera method Merlot!
Natural Wine. Aren't grapes natural? I have been fervently consuming knowledge on the Natural Wine movement, of late. I believe it is just that. A social movement in wine. Some call it a revolution even. These are not the corporate mega producers of bulk wine. In fact the hands-on approach warrants smaller scale production to keep it authentic. Wine is not viewed as a luxury product, to hoard, only for the elite, but instead a for-the-people, adult beverage, to be consumed young, preferably while embracing all the wonder of life.
The Cliff-Notes:
The Vineyard. As wine starts with farming, the acceptable benchmark is organic or ideally, biodynamic. The latter borrows from the teachings of Rudolf Steiner, the Austrian scientist and philosopher of the 1920's, credited as the founder of the biodynamic approach to agriculture. For wines to be certified biodynamic, they must undergo a rigorous process via Demeter , the regulating entity.
The Winemaking. For the minimal intervention bit, no fining, no filtering, relying on native or ambient yeasts, no additions like chapitalizing (adding sugar) and minimal if any sulfur additions. Did you know that wineries are legally allowed to add up to 200 different additives without listing it on the bottle? You thought you were just drinking fermented grape juice? With a lil' mega purple thrown in maybe. Wha..? A grape juice concentrate that winemakers can add to a wine to deepen the color and sweeten the flavor. Found mostly in cheaper bulk wine...but who knows? Not a requirement to be listed.
The Nay-Sayers
Natural wine is not inoculated with commercial yeasts, which is where much of the prescribed flavor profile of a wine comes from. Because Natural winemaking utilizes indigenous yeasts, it therefore invites us to be open to a range of flavors we might not readily associate with a specific varietal. Without commercial yeasts, oak, much sulphur, or a whole bunch of other mysterious extras, some natural wines taste more like you would imagine for raw fermentation. Kinda like yogurt or kombucha. The critics of natural wine claim the wine is flawed. Sour. Cloudy. Funk. The natty's strike back with: that's the way, uh-huh, uh-huh we like it. Flawed then becomes a matter of perspective. We have an industry, true, that tells us when a wine smells too much like a barnyard, it is from brettanomyces or brett, which is considered a spoilage yeast. The growth can be controlled with the addition of sulfur, but many natural winemakers resist using much, if at all. I have detected a fair amount of brett in the wines, but not all at unpleasant levels. Again, it depends on what you are into and what your threshold is for difference.
Open your mind = expand your palate.
Brianne Day pouring her gorgeous wines at Third Coast Soif, Chicago, March 2018 Based in Dundee, Oregon, she makes Pinot Noir, Viognier, Vermentino dominant Pet Nat and more. Day Camp, the collective home of eleven small producers, including Day Wines, is the Willamette Valley's newest winemaking cooperative.
Based in Northern California, Noel Diaz pouring wine at Third Coast Soif, Chicago, March 2018, makes a rosé of Mourvedre, Pinot Gris, Syrah, Barbera and Mourvedre from a few different vineyards. He sources from an abundance of vineyards primarily from Calaveras County in The Sierra Foothills, and makes his wine at a space in Richmond, CA.
Where to taste?
In addition to Brumaire I had the privilege of attending Third Coast Soif in Chicago, also in March. Both are major Natural Wine events in the U.S. that accommodated a few hundred people. And both sold out. These two distinct tasting events featured winemakers, vintners and importers from multiple countries, including France, Spain and The Republic of Georgia, credited as the cradle of viticulture and where the natural wine making tradition still dominates.
Be on the look-out for tix next year for Brumaire and Third Coast Soif! Both events present an opportunity to taste a real breadth and be in a communal space with the folks that are committed to natural wine. There are also, many natural wine shops and tasting rooms concentrated in areas, like New York and Los Angeles. And places you wouldn't guess, such as my hometown, of Louisville, KY: Shoutout to Nouvelle Bar & Bottle! Can't wait to visit next time I am home. Check your local listings. Also your local wine shop may be carrying some natural wines and just not emphasizing them as such. In my quest, I have realized that I actually have tasted many many wines (for example) from natural wine producers. You may have also. Investigate.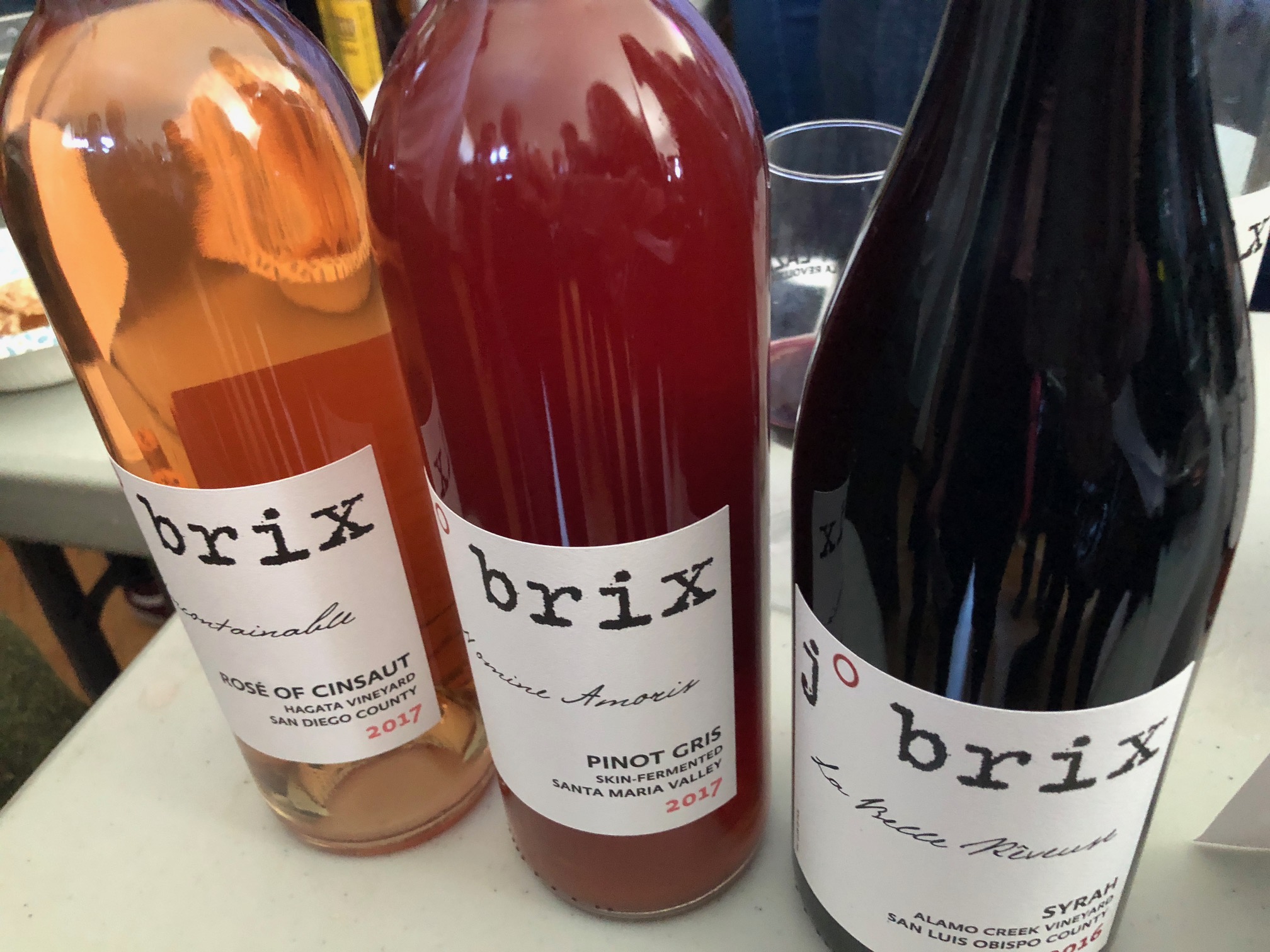 Brumaire in Oakland, CA March 2018, Husband and wife team, Jody Brix Towe and Emily Towe make wine in Escondido, CA explaining, "We want to make wine that tells a non-fiction story." They source fruit from several counties, including San Diego, Santa Barbara, San Luis Obispo and Calaveras. They make Chardonnay, Cinsault, Riesling, Amphora Pinot Gris, Carignan, Grenache, Syrah and more!
Get curious about your wine.
Get Natty!